Poly VVX 600
Business Media Phone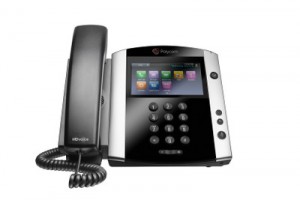 The Poly VVX 600 phone is a premium business media phone designed to enhance collaboration and personal productivity.
Simplicity and ease of use
The Poly VVX 600 phone is built for executives and managers who need a powerful, yet intuitive, expandable office phone that helps them stay connected to lead your organization. Founded on the behavior common to smartphones and tablets, the intuitive gesture-based, multi-touch user interface of the Poly VVX 600 phone makes navigation easy and requires minimal training. With its combined ergonomic design, Poly HD Voice quality and a large, high-resolution color multi-touch screen, the Poly VVX 600 business media phone is ideal.
Maximize productivity
Give your executives and managers the best unified communications (UC) experience and the industry's highest quality business media phone. Designed for a broad range of environments from small and medium businesses to large enterprises, the Poly VVX 600 improves personal productivity by complementing the workplace applications
on their computer. Users can view and manage their Microsoft Exchange Calendars, receive meeting reminders and alerts, access the corporate directory and Instant Messaging/presence status right on their phone display, even while waiting for their PC to boot. They can also extend their PC's desktop to include the Poly VVX 600 phone's screen for mouse/keyboard navigation and interaction.
Best-in-class deployment and administration
The Poly VVX 600 phone is easy to deploy and simple to manage through the Web-based, intuitive configuration tool. Its enterprise-grade Zero Touch Provisioning and server based configuration on large scale deployments, as well as our redirection services, gives your administrators the ability to easily provision and maintain a large
number of phones throughout the entire enterprise. The built-in, broad interoperability capabilities allow IT departments to leverage previous IT infrastructure investments and achieve easy integration with third-party UC and productivity applications.
Highly customizable and expandable
The Poly VVX 600 phone provides personalized information at a glance, through built-in web applications and a digital photo frame. Poly VVX 600 users access streaming content using the included video playback feature. The Poly VVX 600 phone comes ready for future expansion modules and applications such as video conferencing with the Poly VVX Camera. The optional Poly VVX Camera installs in seconds and enables the Poly VVX 600 to connect into video conferences directly from the user's desk, without requiring a costly, dedicated video conference room.
Benefits
Improve productivity for executives and managers through larger, color multi-touch display and more line appearances
Make more efficient and productive calls with the unparalleled voice clarity of Poly HD Voice
Turn your Poly VVX Business Media Phone into a video conference ready desktop video conferencing solution
with an optional Poly VVX Camera
Improve work space mobility through Bluetooth headset integration
Reduce deployment and maintenance costs — the Poly Zero Touch Provisioning and web based configuration tool makes the Poly VVX 600 simple to deploy, easy to administer, upgrade, and maintain
Leverage previous IT infrastructure investments — deploy Poly VVX 600 business media phones on your existing network without needing to upgrade your call control platform
Easily integrate with third-party with UC and productivity applications for broad, standards-based, open APIs