MaxCS Private Cloud
Fully Managed Hosted IP-PBX and Contact Center
Enterprise-grade Cloud UC Solution
MaxCS Private Cloud is a fully managed unified communications service that combines AltiGen's time-tested, feature-rich IP-PBX/ Contact Center, cost-effective SIP trunks, and seamless Office 365/ Skype for Business integration. To ensure reliability and uptime, this enterprise-grade Cloud-based communications solution is hosted in AltiGen's secure and scalable geo-redundant data centers.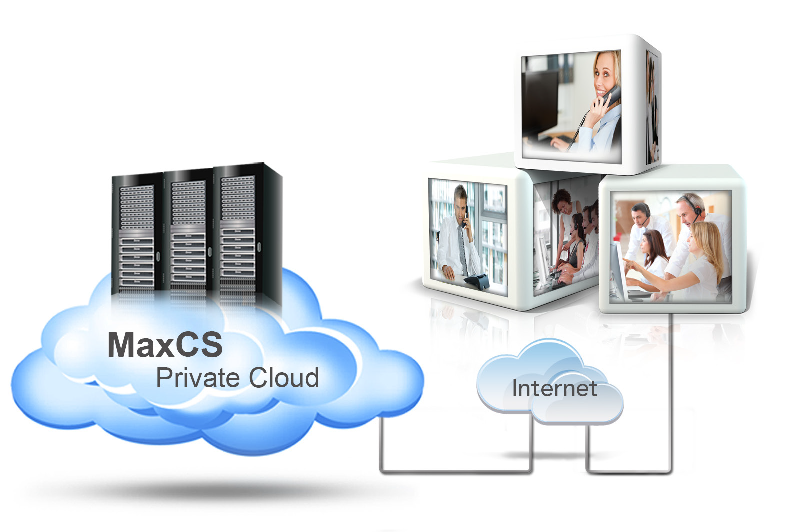 Full Featured Dedicated Cloud Phone System
With MaxCS Private Cloud, each customer receives a hosted IP-PBX/ Contact Center server dedicated to each company. This unique hosted solution is packed with all the must-have IP-PBX and Contact Center features and applications required by today's enterprises.
IP-PBX Key Features
Auto Attendant
Meet-me Conferencing
Visual Voicemail
PBX Mobility
Graphical User/Admin Console
Integrated VoIP Contact Center
Automatic Call Distribution (ACD)
Agent Client Software
Supervisor Management Software
Call Recording and Call Reporting
Graphical Reader Board
Flexibility to Use AltiGen or Polycom Phones
Existing MaxCS customers will be able to leverage their investments in AltiGen phones or utilize industry-standard business media VVX series phones from Polycom.

Skype for Business UC Integration
Easily Upgrade from Premise to Cloud
MaxCS Private Cloud seamlessly integrates with Skype for Business for unified communications. This unique solution delivers a unified desktop client which combines MaxCommunicator and the Skype Client to add instant messaging, presence, desktop sharing, video calling, and web conferencing functionality to MaxCS.
MaxCS Private Cloud Advantage
Complete: Advanced voice and UC capabilities in a single integrated solution
Cost-Effective: Low, predictable monthly cost, and huge savings replacing T1/PRIs with SIP trunks
Simple: Easy to use and manage
Expanded MaxCS Private Cloud license set
Reliable: Deployed and managed in AltiGen's secure, fully redundant Cloud
Future-Proof: Always up-to-date fully managed solution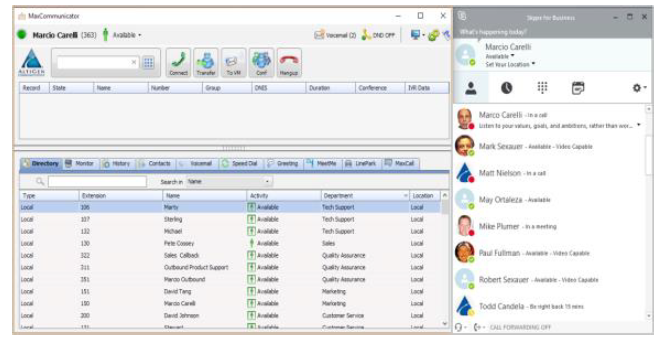 Fast and Easy Migration to MaxCS Private Cloud
For existing customers who have aging Max 1000/2000 or Office systems, migrating to MaxCS Private Cloud is a fast and painless experience. We will walk you through the 5 easy steps to get you up and running in the AltiGen Cloud in no time.
We run our network test tool to ensure that everything will meet technical requirements.
We take a backup of your existing AltiGen system (auto attendant, phrases, voice mail, etc. will be saved and migrated.)
Your new system is created in AltiGen's cloud.
AltiGen ports your existing numbers to AltiGen SIP Trunking.
On migration day, your phones are pointed to the new MaxCS Private Cloud system and you're ready to go. It's that easy!
Call us to ask about the special MaxCS Private Cloud Bundle promotions, offered exclusively for existing AltiGen customers.